The Wiring of The Electronic Sensors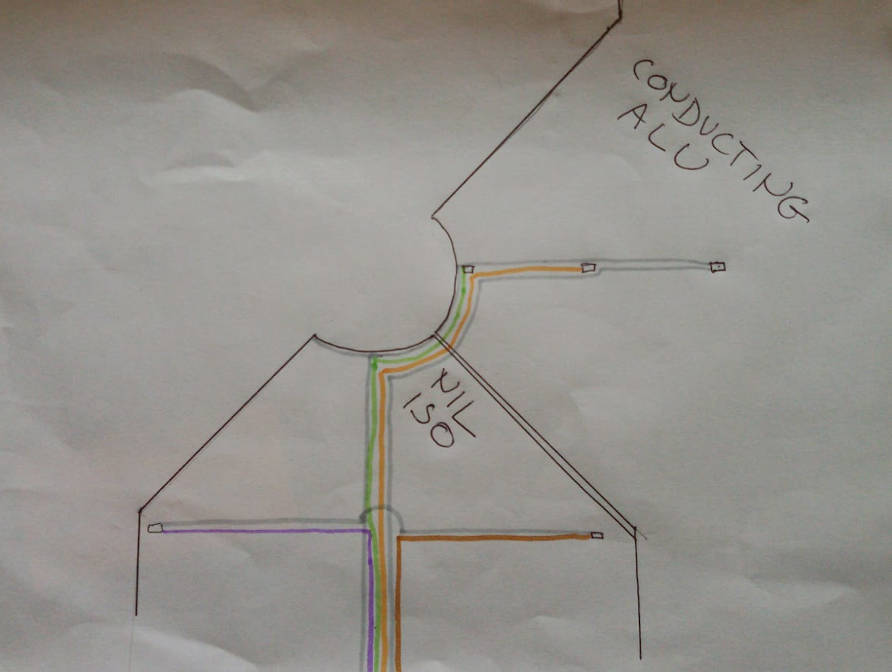 The "NIL ISO" fin (middle of picture) corresponds to an insulating light green fin and the "CONDUCTING ALU" (to the right in the picture) corresponds to a conducting aluminium fin. Both fins are mechanically fitted together and has a machine cut trace to hold the thermic pt500 sensors and it's cabling.
Starting to the far right is a rectangle connected to grey colour cabling. This symbols the conducting fin peripheral thermic sensor (T1). The upper grey cable is the earth and it connects to all five rectangular pt500 sensor symbols in the picture. The lower grey cable is connecting the peripheral pt500 (T1) to the MCP3208 AD converter of the Dynamic Link Control.
Following the upper grey gable, earth cable, to the left it connects to the middle thermic sensor (T2) and it's lower orange cable connects to another channel of the Dynamic Link MCP3208 AD.
Again, following the upper grey gable to the left it connects to the centre thermic sensor (T3) positioned on the fin closest to the Revolving Shutter shaft. The centre sensor lower green cable connects to a third channel of the MCP3208 AD.